Conference Venue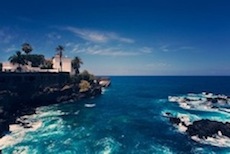 The venue will be the Hotel Botanico & The Oriental Spa Garden, Puerto de la Cruz, Tenerife. Puerto de la Cruz is a city and municipality in the northern part of the island of Tenerife, Canary Islands, Spain. There is plenty to see and do in this beautiful city so it is the perfect place to mix business and pleasure!

You can find out more about the venue .. here ..
---
Travel Information
Tenerife has 2 Airports:
Tenerife North Airport
The international airport of "Los Rodeos-Tenerife Norte" is located in the north of the island, in the district of La Laguna which is about 10 kilometres from the capital Santa Cruz de Tenerife. One of the two airports on Tenerife, it mainly operates flights between islands and to mainland Spain, although there are some international flights.
Tenerife South Airport
The "Aeropuerto Tenerife Sur - Reina Sofia" is located in the district of Granadilla de Abona. From this airport over 150 airlines operate international, national and inter-island flights and almost nine million passengers use it every year making it one of the busiest airports in Spain. It is located very close to the tourist resorts in the south of the island and can be reached via the TF-1 motorway.
Once on the island...
If you are flying into Tenerife South Airport and need to make your way to North of the Island (Hotel Botanico) SDF16 Conference venue please see the many options below.
By Bus:

Puerto de la Cruz - Aeropuerto Tenerife Sur: 13 euros (9.20 euros with bus pass)
By Taxi:

Here if you wish to book a direct Taxi you can get an instant quote by putting in your airport name and destination.

More taxi numbers can be found .. here ..
By Tram:

Travel information can be found .. here ..
Useful Information
For maps of the island please see .. here ..
Useful information and practical advice to read before your trip please see .. here ..
To plan where you may like to visit should you be staying before or after the conference then please see .. here ..
---